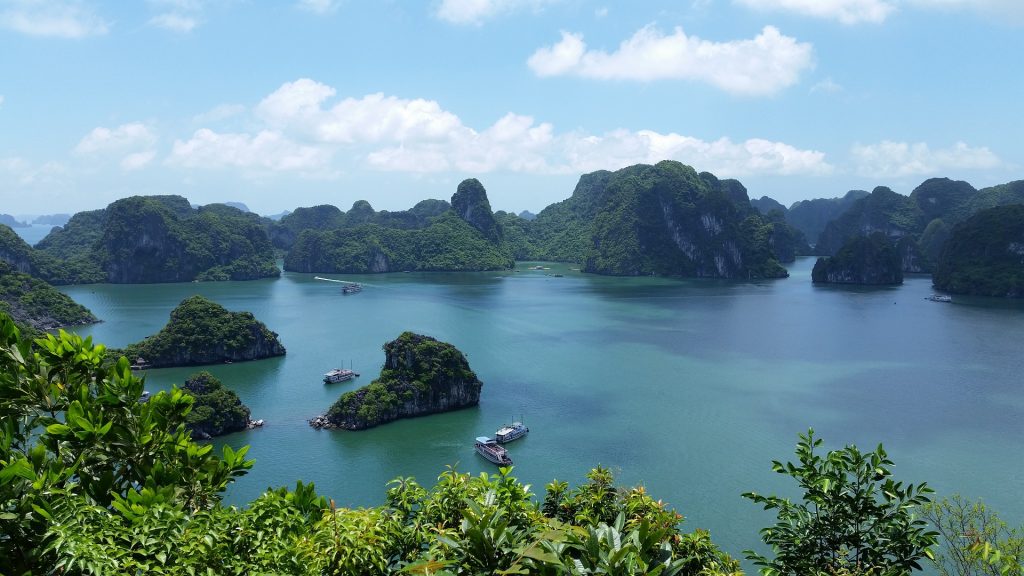 My first visit to South-East Asia and what an absolute treat!
Our tour consisted of ten travel agents and Neil from Wendy Wu tours. In each resort we were joined by a local guide.


We started in Hanoi, North Vietnam. 9.5 million people live in Hanoi and 3.5 million of them own motor scooters, carrying everything on them from fridges to livestock and families of four – fascinating to watch.
Hanoi has a mix of new and old colonial buildings with street vendors selling their wares – flowers, fruit and vegetables – on each street corner. Tree-lined boulevards, lakes, temples and pagodas are the setting for busy but fascinating city.
Next stop on our tour was Halong Bay (which means descending dragon) 3.5 hours from Hanoi. Around 500 boats were waiting in the bay and, as we boarded ours, we were pleasantly surprised by the ornate decoration and stunning top deck with sun loungers.
Our seafood lunch consisted of fresh cooked prawns, clams, deep fried squid, mussels and fish, all caught fresh that day, and washed down with local wine or beer. Fishing houses set on stilts sell wares from the waterside village communities. We cruised for 3 hours through limestone formations under skies so blue and in such a beautiful setting that we never wanted to leave.
Moving on to Hoi An, a very pretty olde worlde setting and, in some parts, still with a Chinese influence – so peaceful compared with Hanoi. We wandered through the market stalls, a treat for food lovers with fruit and vegetables in every size, shape and colour. For the brave, the freshly caught seafood is a must but hold your nose! For the very brave, live geese and hens can be bought (and killed) for a very cheap price. For those who like to cook, classes are offered to hone your culinary skills
Eating in the local restaurants is an experience not to be forgotten, the best food I have ever tasted. From meats to seafood, rice, noodles and very fresh vegetables, all very cheap.
Hoi An is a World Heritage Site and full of interesting buildings and temples, beautiful shops and even a tailor's where you can have dresses or suits made to measure.
After leaving the peace of Hoi An our next stop was Saigon. Wow, the hustle and bustle of this cosmopolitan city – with 4 million mopeds! On our tour of the city we stopped to see Notre Dame cathedral and Gustave Eiffel's fabulous gothic Post Office. It was like stepping back in time.
We also visited the War Museum. The phrase 'a picture is worth a thousand words' is very apt here – words cannot describe how emotional and humbled we felt after seeing the three floors of photographs documenting the Vietnam War.
The small town of Cu Chi is famous for its elaborate network of tunnels, originally started in1948 to protect the Viet Cong guerrillas from French air and ground sweeps. The tunnels were also used to store food and weapons and to act as hospitals and living quarters throughout the American war. It was quite amazing to see how people lived underground, creating booby traps to protect themselves from the enemy.
After leaving Saigon we drove 53 miles to Ben Tre, a quiet part of the Mekong Delta. After half an hour's drive the Mekong scenery becomes very flat, with an abundance of paddy fields. 50% of the delta produces rice, coconuts and many other regional fruits such as pineapples, jackfruit and mangoes. We had a chance to see a working coconut candy family business which uses the most basic techniques to produce a fantastic favoured sweet. Of course, we had the opportunity to buy these delightful sweets afterwards.
Our final journey took us to Phnom Penh, capital of Cambodia. In Phnom Penh is the Royal Palace, home to the King, and the magnificent Silver Pagoda. The pagoda contains many treasures, including a life-size gold Buddha decorated with 9,584 diamonds, the largest of which weighs 25 carats. After seeing all this beauty it was time to leave for the killing fields.
Situated 15km southwest of Phnom Penh, the Killing Fields were originally a Chinese graveyard but during the reign of the Khmer Rouge were used as a mass-murder ground for those though to oppose the regime. The remains of around 9,000 people were found in this one site. There were over 300 Killing Fields in Cambodia and the best known, Choeung Ek, has been turned into a memorial and museum.
We finished our tour with a visit to the S21 Genocide Museum in Tuol Sleng, an old school taken over by the Khmer Rouge in the 1970s. Opponents of the regime were tortured here before taken to Choeung Ek to be killed.
This was a very sad day and one that I will remember for very long time.
Moving on to Siem Reep – all I can say is "Wow!" I absolutely loved the history of 12th century Angkor Wat and Angkor Thom, the unique wall carvings are beautiful. From Angkor Thom we travelled on to Banteay Samre, the only pink sandstone temple so far discovered.
Our last tour was a boat trip on the Great Lake of Cambodia, Tonlé Sap and the floating village. 5,000 people live on the lake in floating communities with houses, schools, markets and even a police station. There are also fish farms and crocodile farms.
I have learned so much about the culture and people during this fascinating and emotional tour of Vietnam and Cambodia. It has left me with lifelong memories of the sights and sounds, scenery and experiences.
Would I go back to Vietnam and Cambodia? Yes, definitely… tomorrow!!